MJO Shaar Hashamayim Synagogue
YES! WE ARE OPEN FOR TEFILLAH & Torah Learning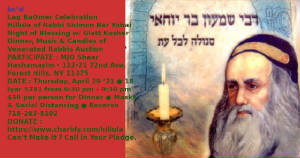 בס"ד
Lag BaOmer Celebration
Hillula of Rabbi Shimon Bar Yohai
Night of Blessing w/ Glatt Kosher Dinner, Music & Candles of Venerated Rabbis Auction
PARTICIPATE: MJO Shaar Hashamayim - 112-21 72nd Ave, Forest Hills, NY 11375
DATE: Thursday, April 29 '21 ● 18 Iyar 5781 from 6:30 pm - 9:30 pm
$30 per person for Dinner ● Masks & Social Distancing ● Reserve 718-263-8102
ONLINE: ZOOM.us/join ● Meeting ID: 3184202648 ● Password: 613
DONATE: https://www.charidy.com/hillula
We're Going Live Tuesday 4/27 @ Noon. Can't Make it ? Call in Your Pledge.

We are proud to announce the NEW
Emet Torah Learning Program for Men
- Sponsored by Olami
at the MJO - Sunday - Thursday Mornings from 7:30 am - 11:30 am - followed by refreshment - For More info - please contact us or just drop by.
SHABBAT Service Times
FRIDAY
7 pm - Minha, Kabalat Shabbat, Arvit
SATURDAY
8:30 am - Shaharit Shabbat Morning Service
Shabbat Minha followed by Arvit - 10 Minutes before Friday Night Candle Lighting Time


Torah Learning 1 Hour Before Minha
Please wear masks and observe social distancing rules. Women may attend.
Seuda Shelishit at home.
Sunday Minyan
8 AM
Thank Hash-m You Survived.
Come In & Say Thanks You're Alive!

Open to All, the MJO has been serving our Jewish Community for over 48 Years. Our Founders brought beautiful Moroccan Traditions & Jewish Heritage to the US. We continue the Legacy. Rebuilding After the Quarantine - We connect people with Spirituality - with Torah, Tefilah / Prayer & Hasadim / Kindness. Children & adults learn Torah. People eat meals. Walk in & learn Torah at Shabbat & Sunday Kollel. Young men, advancing in Judaism, learn Torah daily with EMET organization - our team partner at our center. Help us help others grow & blossom in Judaism. Your Support is Meaningful. Please Join Us! Keep the Flame of Judaism Burning in Your Family!

Moroccan Jewish Organization
SHAAR HASHAMAYIM SYNAGOGUE
112-21 72ND AVE / FOREST HILLS, NY 11375
mjony.org / info@mjony.org / mjoshaar@gmail.com / 718.263.8102
====
NEW ONLINE SKYPE LEARNING
Please Join Us - send us a text to set up a learning session apointment

Monday - Thursday at 6:00 - 6:45 pm
To learn Torah Wisdom
with Matatia Chetrit.
Learn Chumash, Pirkei Avot / Ethics of the Fathers - Chapter 6, Halacha - Jewish Law & More in English
Join When You want . Learn for 5 Minutes or as long as you want.
Matatia Chetrit is Spiritual Leader of MJO Shaar Hashamayim Synagogue (mjony.org) in Forest Hills and Chief Writer of Jerusalemlife.com blog.
https://join.skype.com/rrRxJ4AisKcY
To join our mailing list please contact us at mjoshaar@gmail.com or at 718.263.8102.
please share.
If you need Help Please contact us ASAP at jenet@iname.com or Matatia Chetrit 718.962.4872 or 718.263.8102
We hope you are feeling well - enjoying your time with your family.
If you need any help - during this challenging period please call us at number above.
Bring Friends. Make Friends.
Please share with family and friends